02-05-19
Every dog must have his day.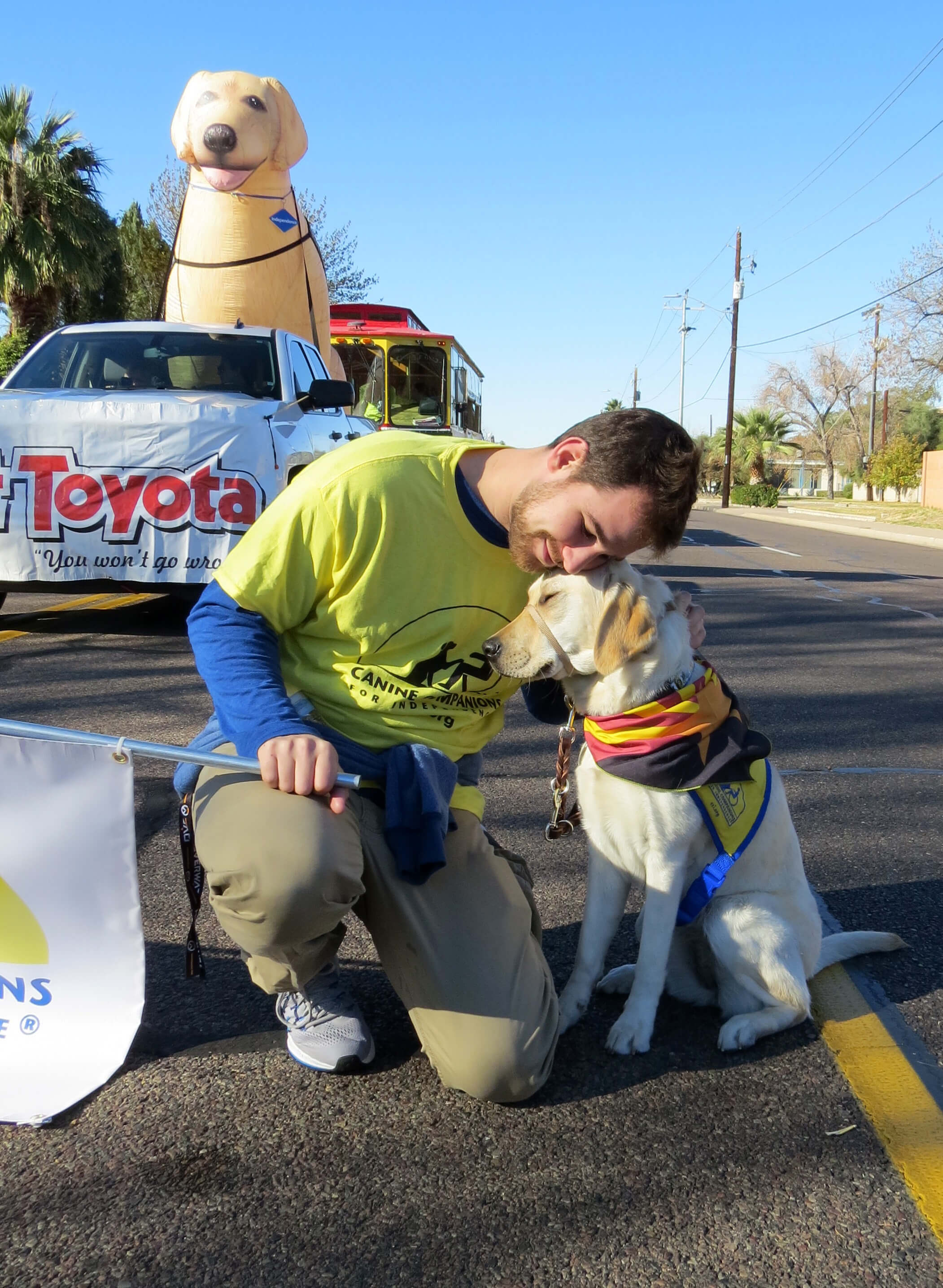 And, for the service dogs of Canine Companions for Independence that day was Saturday, December 9, 2018.
Right Toyota partnered up the charity as a participant in this 2018 Fiesta Bowl Parade. The parade participants included local businesses, dance groups, college bands, youth clubs and a Sea of White Labradors Service Dogs accompanied by their handlers or foster family along the 2 mile route down central Ave in Phoenix.
The Fiesta Bowl Parade is one of the most popular Fiesta Bowl events that take place in the Valley of the Sun in the days preceding the annual football game.
Right Toyota has been a proud supporter of Canine Companions for Independence for over 5 years. If you are ever at Right Toyota on the 3rd Tuesday of the month, you might wonder… Why are there so many service dogs in our customer lounge? It's because as a part of our support for the charity we opened up the dealership to be use as a training facility for the service dogs. A potential service dog is placed with a foster family at approximately 10 weeks old to start off on their journey to become a licensed service animal. These pups acquired by Canine Companions for Independence require 1-2 years of training to become a service dog and to be fully trained in public access skills.
The parade was the first opportunity for me actually meet some of the Handlers (Hander is the proper term to describe a person in need of or using a service dog). Meeting the handers, their family's and hear the stories of how the service dogs have enriched the lives was truly heartwarming and a ROI that is unmeasurable.
Often in businesses we donate, sponsor or partner up with a charity for marketing purposed and expect a monitory return on the investment. Businesses expect increase sales, higher traffic, referrals and growth to come out of something that was meant to be a sincere gesture of giving.
As the Director Philanthropy for Right Toyota, I have always set out on a journey to learn more about a charity's needs, mission, and use my expertise to host community fundraising campaigns to increase awareness for smaller charities in the valley. I have never expected a ROI on our giving. I always felt that it would eventually come organically and not measured in dollars and cents.
The training cost for these pets is over $45,000. We are honored to play a small role in helping to prepare the pups to help people who have disabilities, such as visual impairment, hearing impairments, mental disorders (such as post-traumatic stress disorder), seizures, and mobility impairment. When a handler is approved for a service dog, they pays absolutely ZERO cost to obtain the life changing gift!
Formed in 2002, the Valley of the Sun Chapter is a dynamic volunteer chapter of Canine Companions for Independence and they are truly making a difference in the community!
To learn more about Canine Companions for Independence, AZ go to http://www.cci.org/locations/southwest/valley-of-the-sun-chapter/
Remember, the purpose of life is to be useful, to be honorable, to be compassionate, and to make a difference!
---